Food has its funny way of making you think, provoking feelings, and bringing up memories. As I devour today's avocado mango salad, I'm getting cautiously excited. I'm excited about the possibility of a vaccinated summertime Chi and the ability to get out in the streets and in the air again. After the hell we've experienced since March 2020, I'm dreaming of (read: dying for) a vacation. I can't wait to strut my kaftan-clad body down some tropical destination's powdery white sand beach with a cocktail in hand.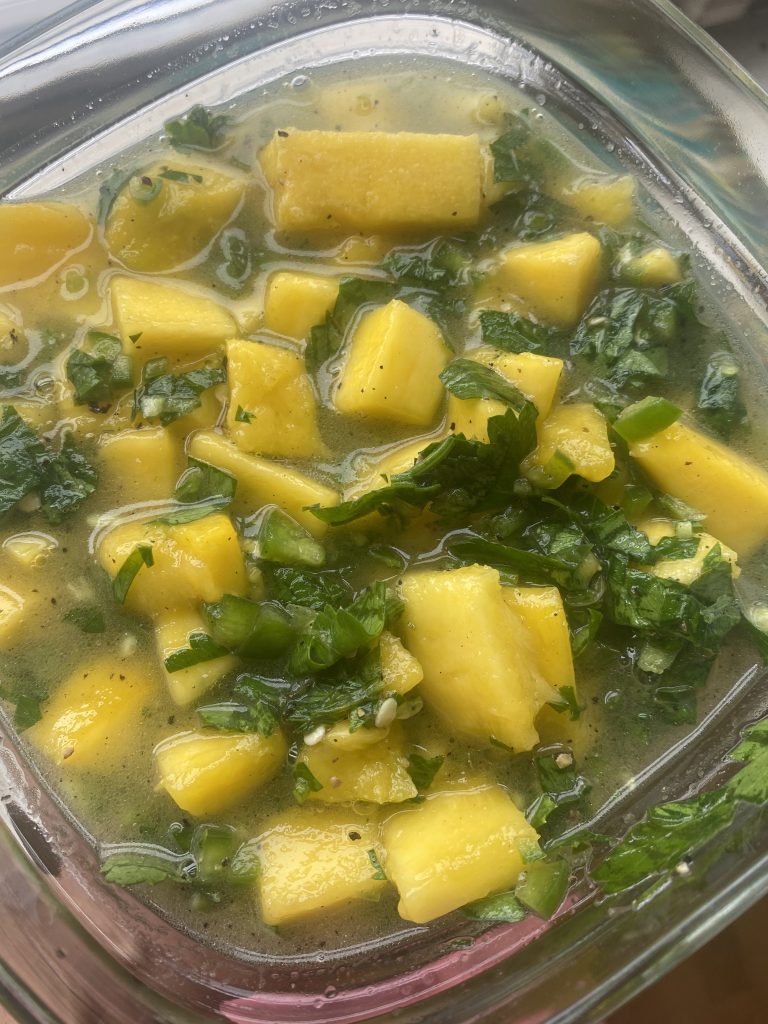 Jump to Recipe
While I wait for things to get to the point that I feel comfortable traveling, I'll have to continue to make my home the paradise I seek. One of the best ways to do that is through food. This avocado mango salad is a first class ticket on Daphne Air headed to Senegal with a little diversion in Mexico.
Travel on a plate
Senegal has been a goal destination for a while, so I've researched a LOT – everything from accommodations to food traditions. I was really excited to find Ndambe, a naturally vegan, spicy bean sandwich, and Yassa, which involves a lot of onions, mustard and lemon. I immediately created my own version of Ndambe and freaked it a little by dressing it with Yassa onions. It's crazy delicious and its become a favorite with my family and clients.
I felt like I needed a salad to accompany, so I kept digging and I finally ran into a citrusy avocado mango salad from Senegal. The flavors blend perfectly with the sandwich. The recipe veers a little toward Mexico with the addition of cilantro and serrano peppers.
A few tips
Whether with the sandwich or own its own, this salad is such a perfect bite. It's light, but filling from the avocado. It's bursting with citrus and it's a little spicy. You'll find yourself eating this salad breakfast, lunch, and dinner. The ingredients are plentiful enough that you'll be whipping it up winter, spring, summer or fall.
It's fun too! How often do you get to supreme oranges (simple how-to)? Let me know if you try it. Tag your IG pics with #debaucheedoesit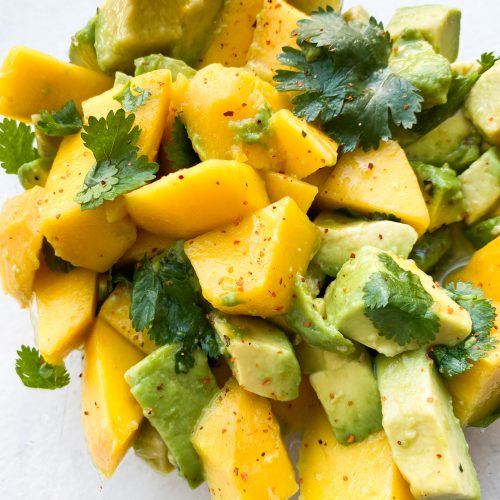 Senegalese Avocado Mango Salad
Equipment
knife

cutting board

citrus reamer
Ingredients
2

Avocado

pitted, peeled, and cut into 1 – 1.5" cubes

2

Mango

pitted, peeled, and cut into 1 – 1.5" cubes

1

Navel orange

large, peeled (see notes)

Lime

juice of one

1 – 2

Serrano pepper

stemmed (see notes)

1/2

cup

Cilantro

roughly chopped

1/4

cup

Avocado or grapeseed oil

1

tsp

Sea salt

Himalayan is preferred

1

tsp

Black pepper

freshly ground if possible

2

tsp

Shredded coconut

optional
Instructions
Supreme the orange. Don't know how? Read the post for a link and the reason why. Believe me, you can do it. It's easy.

Separate the supremes into two equal portions.

In a medium bowl, juice one half of the orange.

Cut the other half of the orange into 1 – 1.5" pieces and set aside.

Add lime juice, serrano (see notes), oil, salt, pepper, and cilantro, (reserve a little for garnish), to the bowl with the orange juice and whisk together.

Very gently toss in the avocado, mango, and orange supremes.

Cover the bowl with plastic wrap or a lid and refrigerate for an hour.

Serve sprinkled with additional cilantro leaves and coconut, if using.
Notes
Serranos: Some Like It Hot or…Not
Like my salad spicy, but you're always in control of the heat with this recipe. 
For the most heat aka "How Daphne Likes It," use two Serrano peppers and keep the seeds. 
For the least heat, use only one Serrano pepper and remove the seeds.
If you want it anywhere in between, adjust the amount of peppers or seeds. 
Fancy An Orange? Supremes
Why supreme? Cutting citrus fruit into supreme completely removes the bitter pith and membrane. Plus, it's just prettier and elevates your dish.
Don't know how? There's a link in the post.