This year my family planned to go on our first family vacation since our Disney trip when I was a teen. I'd started shopping for kaftans. I'd worked tirelessly with my patient (when I plan, I PLAN plan) travel advisor, Russell. I'd even gotten my Dad to leave the country and this is no small feat. It was March 15, 2020 and we were within hours of dropping a sizable deposit when…well, we all know what happened.
Now when I say I PLAN, I not only mean that I research every aspect of the trip and drive my advisor crazy with questions and alternatives. I also plan the HELL out of my ensembles. Some may say it borders on the obsessive, but I say, I just gotta be me.
All Day Kaftan-ing
My favorite vacation ensembles are always created around a kaftan. I LOVE kaftans. For me, a kaftan is wearable art. I know, I know. The term is overused and most clothing called "wearable art" is usually anything but. However, my kaftan standards are pretty high, so any that I pick will exceed the bill.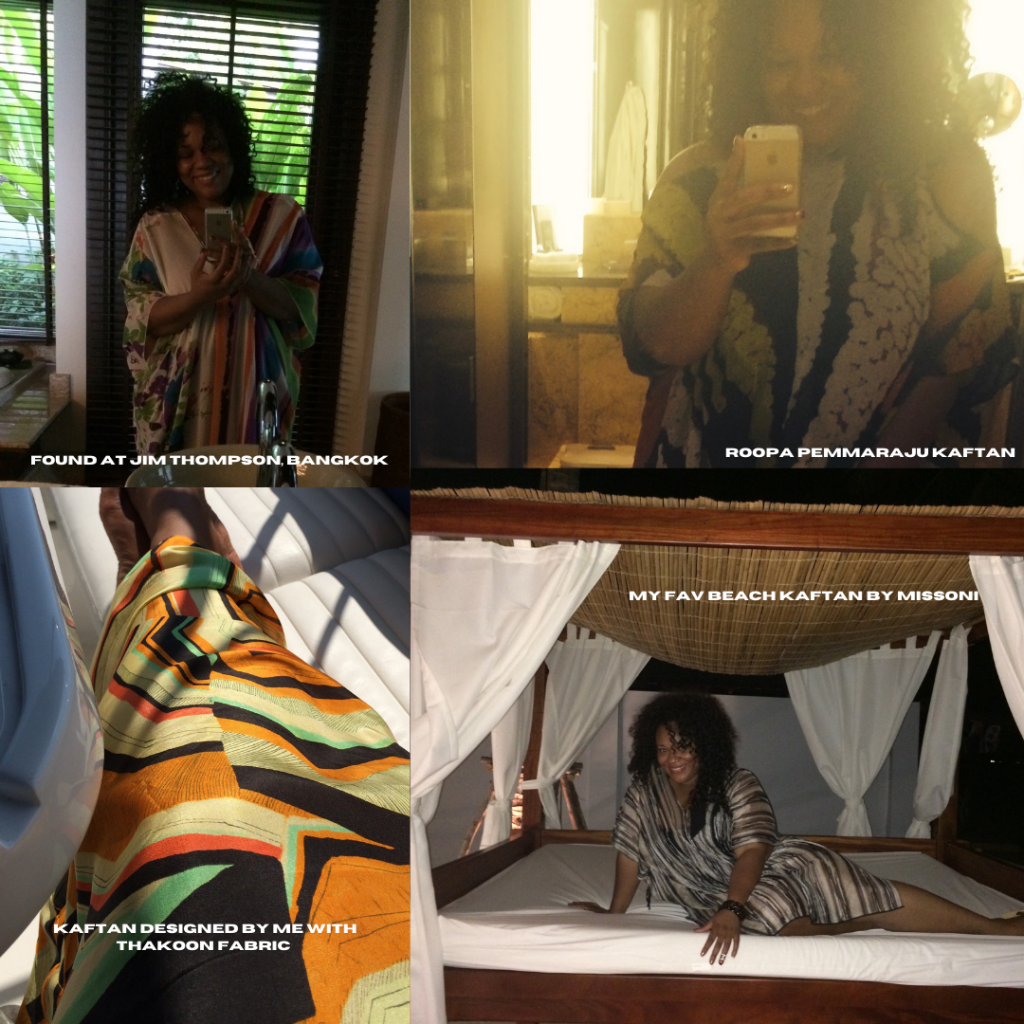 What does a kaftan have to be to make it onto my list? First, the fabric has to be light and airy. I'm talking luxury kaftans, no heavy polyester foolishness that'll have my underboobs sweating. Secondly, it has to have a stand out print and/or embellishments. It has to look like someone took their time to create a beautiful pattern by hand. Someone's hands have to have touched it to attach beads, crystals or embroidery. Finally, it has to be sexy. No, it doesn't have to have a plunging neckline or be see-through, but it must project sexiness in some way. No matronly looking kaftans for me.
As I stare out of my Chicago window which is partially obstructed by a huge freakin' mound of snow the likes of which belongs only on somebody's slopes or possibly hell, I can't help but reminisce and shop. Hey, it's my coping mechanism. Don't judge me.
These Kaftans Made the Cut
Fortunately, I take notes and have assembled my list of the kaftans I'd like to add to my collection right now. Because as soon as the world opens back up and Daddy is FINALLY able to get a vaccine, we're out!
Take a look and if you know of kaftans that should've made my list, let me know.
CAMILLA Cameos Can Can Kaftan $599

LEM LEM Sofia Long Caftan $325

ROOPA PEMMARAJU Nalini Saree Kaftan $1400

MARRAKSHI LIFE Point-collar Colour-block Cotton-blend Kaftan $513 Matches Fashion

TALLER MALMO Milano Kaftan $1995 Net a Porter

Tom Ford Flame Tie-Dye Print Silk Beaded Caftan $9,950 Neiman Marcus

MISSONI Asymmetric Zigzag Kaftan $1307 Harrod's

TALLER MARMO Mrs. Ross Kaftan $1465 Matches Fashion

SILVIA TCHERASSI Mayfair Dress $1300 Forward

HEMANT & NANDITA Ann Kaftan $390