When I saw the inspiration for this deliciousness on my IG, I knew I was going to have to replicate it. If you follow me on IG (@Daphne), you know that one of the ways I cope with our current plague is by doing what I call, traveling on my plate. Food is always one of the main highlights of any trip I take, so naturally, I discovered congee on a trip eight years ago (when I was an omnivore). Now that I know and do better, I've been happily perfecting my vegan congee recipe ever since.
Cope + cook
I get so much joy from experimenting with food from various cultures. In one week, I can travel from Pueblo in Mexico (vegan mole poblano) to Tokyo, Japan (vegan ramen bowl) to Lebanon (vegan Lebanese Arayes & Salata).
Vegan Pro Tip: Exploring the world through food keeps the act of cooking feeling fresh and not so much of a chore.
It's really fun for me! I watch all of the travel shows about the area and read (and google translate to get the authentic tips) all the recipes. If I can find a good cookbook, I buy it and I listen to the music too. I discovered Buika one day when working on vegan tapas.
Vegan congee me, please
When I travel, food experiences are a priority and I especially love to get dressed up and enjoy a posh restaurant and fancy chef too. As a vegan, those experiences are hard to come by, so it was cool to hear about Eleven Madison Park and its all plant-based menu.
I'm not sure when I'll get to experience the restaurant myself. I pray I can soon, but for now I just stay abreast via their IG page. I came upon a post of what they called Fennel Rice Porridge with Meyer Lemon and Juniper and I knew exactly what that meant – fancy vegan congee! They'd combined two of my favorite foods – fennel and congee – into a bowl of lemony goodness. I made it my business to get this new vegan congee recipe in my arsenal.
No gin, hello cardamom
Since there was no recipe, I just kind of freaked it. Instead of juniper (and because I didn't feel like buying gin), I included another love, cardamom, and bay leaves to give it a balance of subtlety and vibrance. Because I had no idea how Eleven prepared their fennel, I decided to prepare it in a way to provide a good crunch and really showcase the flavor of the vegetable.
Part of the congee fun is the accoutrements, some crunchy. Steaming the fennel in the oven with lemon and garlic for a few minutes made the star vegetable become the perfect vegan congee topping. It had just enough flavor and retained the crunch.
Let me know if you try the recipe! I know you'll love it already though, because I'm now obsessed. It's a delicious alternative to the usual congee flavor profile. When you cook it, the fragrance is going to be intox-i-ca-ting. On top of all that, it really is pretty easy to make. You just have to check on it and stir periodically.
I made a large dutch oven full and there were barely leftovers. It's that good. I read that it's traditionally served at breakfast, which is just fine with me. I love savory breakfasts, but I could eat this for lunch and dinner too. And I would definitely serve it if I was hosting a cute brunch in a cute lil bowl or something. Enjoy and share this vegan congee recipe with your friends!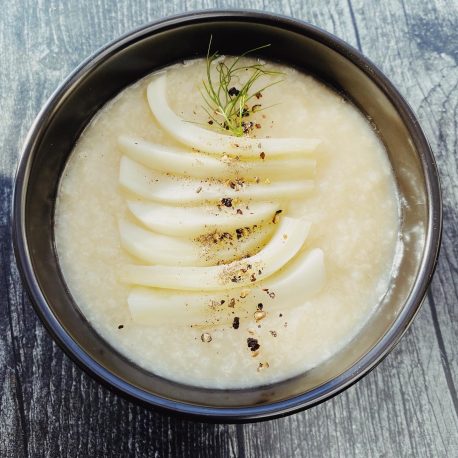 Fennel + Meyer Lemon Congee
A fragrant, lemony and garlicky take on vegan congeecongee! that's soon to become your favorite
Ingredients
1

cup

jasmine rice

rinsed, sorted

8

cups

vegetable broth

unsalted

1

Meyer's lemon peel

large pieces

1

fennel stalk

cut in two pieces

4

garlic cloves

smashed

5 or 6

cardamom pods

2

bay leaves

1

tbsp

Himalayan sea salt

2

tsp

white pepper

2 – 3

inches

ginger root

cut into one inch pieces
Steamed Fennel
1 or 2

fennel bulbs

2 or 3

garlic cloves

1/2

lemon
Instructions
Preheat oven to 400 degrees for the fennel bulbs.

Wrap the cardamom, garlic, and lemon peel in cheesecloth for easy removal. The bay leaves, ginger and fennel should be large enough to remove easily before serving.

Combine the first 10 ingredients in a large dutch oven and bring to a boil on high.

Once boiling is reached, cover with a slightly vented lid, and reduce to low heat.

Cook for one hour, checking and stirring every 10 -15 minutes, until the desired consistency is reached. I like for it to be thick, but still liquid.

Remove everything and place in a bowl for serving. Top with the steamed fennel.
Steamed Fennel
Cut the fennel bulbs in halves or strips (to speed things up).

Place fennel bulbs and garlic in aluminum foil (I also place a sheet of parchment paper between the veg and the foil), creating a packet.

Squeeze the lemon juice over the vegetables and place on the aluminum foil. You can also add a pinch of salt.

Wrap it all tightly and place in the oven on a cookie sheet for about 20 minutes until the fennel is cooked but still has a bit of crunch.

Remove from the oven and slice the fennel into strips and place it on top of the congee.

Sprinkle with freshly ground black pepper if you'd like and enjoy!
Notes
You'll notice that an extra half of a lemon is laying around. Please feel free to squeeze the juice in with the congee for an extra lemon punch.