Although, I've lived in Chicago for 15 (wow!) years now, I'm from Memphis, TN. Therefore, you can assume very correctly that I've had many banana puddings in my life. Almost every Memphian has an auntie or grandmama whose banana pudding is "the best ever." Of course the accuracy of these claims vary. Well, now at my big girl age, I can say that I am the auntie with the best ever southern banana pudding recipe. And what's even better? Mine is vegan southern banana pudding!!!
I just lean toward savory
Yeah, I know it's a strong assertion and I know my culinary strengths and weaknesses very well. I can cook. I can cook very well and I state it with great confidence. I also LOVE to cook, so that may explain why I am so good at it. You tend to excel at the things you love.
However, I have had what I once considered a chink in my kitchen armor. When it comes to vegan desserts, especially baking, let's just say I'm not as confident. Why? I very rarely bake or make my own desserts. It's not that I can't do it and do it well (especially with a good recipe <= I can't wait to get Black Girl Baking by Jerrelle Guy!). Baking and desserts just ain't my thang.
But I have a sugar tooth
But just like everybody else, sometimes I want something sweet. And this time (before I wrote this post), I serendipitously had every ingredient I needed in the house to make this amazing vegan banana pudding. This never happens, so this recipe almost HAD to happen. It was ordained. 🙂
Try it out and let me know what you think. I really already know, but I want to hear you confirm the truth. This vegan banana pudding is indeed the best. After that, follow me on instagram @daphnedebauchee and tag you pics #debaucheedoesit 😉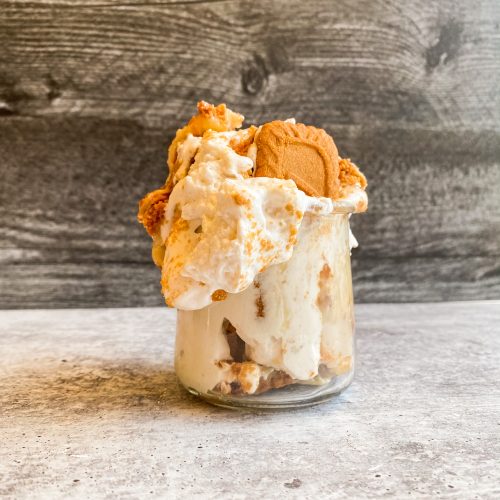 Vegan Southern Banana Pudding
Ingredients
3-4

bananas

ripe

1.5

cups

soy milk

1

can

sweetened condensed coconut milk

320g (11.25 oz) can

3

tbsp

corn starch

1

tub

vegan whipped topping

9 oz. tub

.5

tbsp

vanilla extract

1

jar

Gerber Organic Banana

17.6

ounces

Biscoff cookies
Instructions
Combine plant milk and condensed coconut milk in a sauce pan and whisk in corn starch until the mixture is relatively smooth.

Whisk in pureed banana (baby food).

Bring the entire mixture to boil over medium heat. Once boiling, turn the heat down to low and cook for a couple of minutes. The mixture will thicken.

Whisk in vanilla extract.

Line the bottom of your casseroled dish with a single layer of Biscoff cookies.

Pour half of the pudding mixture over the layer and spread evenly.

Slice ripe banana over the pudding mixture. The pudding mixture should be covered with a single layer of banana, approximately 1 – 1.5 bananas.

Repeat the layering using the remaining pudding and bananas.

Spread whipped topping evenly over the top layer of bananas.

Finely crumble 3 or 4 Biscoff cookies and sprinkle on top.

Refrigerate and let set for at least an hour.
Notes
I used soy milk, but you can substitute with any planet milk.
I used Nature's Charm Sweetened Condensed Coconut Milk.
I used So Delicious Dairy Free Coco Whip.
I used Gerber Organic Banana 1st Food, but of course you can puree your own banana. I just happened to have the Gerber on hand, go figure. LOL.
This recipe is very flexible. If you'd like to make it in individual serving containers instead of a casserole, the recipe remains essentially the same. Just layer in the containers.
You can add other fruit too. I'm thinking about adding some dehydrated raspberry powder to the top next time.