Eating vegan, well, and with style can sometimes take a little work. I'm currently studying vegan fine dining and I can attest that it can require time and patience to serve a beautiful and tasty plate. But sometimes you get lucky and create a meal that impresses while still being super easy! I guess you can say my Escarole + White Bean Soup is garlicky, silky, and delicious luck in a bowl.
Jump to Recipe
Too good can sometimes be true
There's something luxurious about this soup. It tastes and feels way fancier than it is. Its smoky flavor makes you think it's cooked for hours but it takes less than an hour to make. And like I said, this soup is silky. The escarole gives it this smooth mouth feel that perfectly balances the heartiness of the beans.
Escarole was new to me.
I didn't grow up eating escarole. When I became an adult, I was introduced to it in salads. I loved the not-as-crisp-as-other-greens texture and crazy jagged leaves. I had it later in soup and I've been hooked ever since. Escarole almost gives you the sensation of a flat noodle when cooked in this soup.
There are lots of escarole and white bean soups on the interwebs. My version is different because I take the flavor and amplify it even more. Like I said, I really love escarole so I add a lot more than you usual. The added benefit is the extra nutrition. I also made garlic even more of a star. Last, but never to be least, I include vegan bacon. It's not required, but using it as a flavoring base and then mixing it in as you finish the recipe adds a chewy, smoky surprise.
This soup is pretty cheap to make too! Give it a try. It's perfect for a cold, weather soup, but it's so good I eat it in the summer too. It's filling while still being light. This might just be the perfect soup.
Let me know if you try the recipe! Tag #debaucheedoesit on IG. I'd love to see your pics of the soup and your satisfied faces! I actually do other easy vegan recipes sometimes too. Follow @daphnedebauchee on Instagram for more.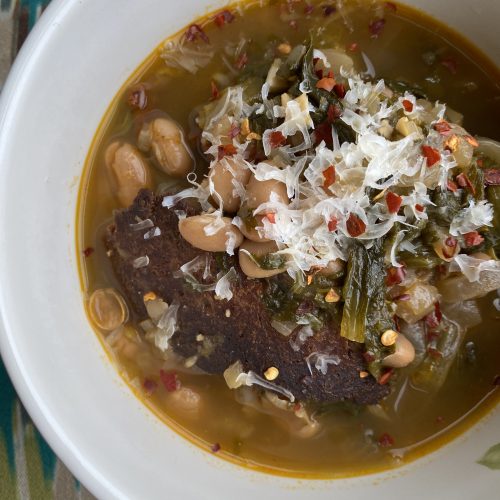 Escarole + White Bean Soup
I know every blog you read says this is the best this, that, or the other, but my vegan Escarole + White Bean Soup is for real the best and easiest soup that satisfies in every way. It's too easy to be this good. You'll impress somebody with this one.
Equipment
Stock pot or large dutch oven
Ingredients
2 – 3

Onions

thinly sliced (see note below)

8

cloves

Garlic

minced

1.5

tbsp

Coconut oil

refined

4 – 6

slices

Vegan bacon

8

cups

Vegetable broth

1

tbsp

Garlic powder

2

heads

Escarole

roughly torn in manageable pieces

1

tbsp

Extra virgin olive oil

Salt and black pepper

to taste
Instructions
Heat coconut oil and one tablespoon of olive oil over medium low.

Add vegan bacon and allow to cook thoroughly and then remove from the oil.

Add onions to the oil and cook until soft and clear.

Add garlic and cook for two to three minutes.

Add beans and broth and raise the heat to medium. You want the soup to have a good simmer.

Now add the escarole and the garlic powder.

Cook until all of the flavors combine, beans are cooked through, and escarole is wilted. About a 20 – 30 minutes.

Crumble the bacon and add back to the pot.

Serve with grated vegan parmesan, a drizzle of good olive oil, and maybe a few red pepper flakes. Hearty, silky and delicious. Also, if you're so inclined, a good piece of crusty garlic bread would be perfect with this soup. Enjoy!
Notes
All onions aren't the same
. They give you different nuances that when combined, really layer the flavor in any dish. When I'm cooking and especially in this dish, I tend to use a combo of yellow, red, white, shallots, and/or leeks. the onions matter. In this video, I decided to vary the cut of the onion as an experiment.