After a full week, or more (no judgement, some of of us are slow starters), of eating and drankin' (aka drinking hella heavily), you may have committed to following a vegan diet this month. You may have heard it called Veganuary. It's a yearly challenge that promotes vegan lifestyles and an awesome way to start your year off with some new, and frankly better, eating habits. I'm all for it. I've been adhering to a vegan diet for almost five years now, so I'm always happy to have new vegans join our ranks, at least for a little while.
The problem is that often people don't plan ahead for their Veganuary and then end up cutting it short before they get to experience all the benefits. "I tried eating vegan, but after two days, I was sooo hungry. My body craved protein." Yeah, we've all heard some such foolishment. You don't have to live on salads alone and if you're hungry, eat.
You don't have to live on salads alone and if you're hungry, eat.
But is vegan food ever filling? Indeed! Aren't y'all always a little hungry? Absolutely not. Simple and relatively cheap produce exists and can be made simply into a filling, delicious and even a little elegant meal.
Say hello to my Roasted Celery Root, Yukon Gold Potatoes, and Gala Apples with Fried Sage. This meal is easy to prepare, layered with flavor upon delicious flavor, and guaranteed to keep you warm even through a winter night in Chicago.
Jump to Recipe
I also have a few glowing, five star reviews of this dish because I, along with other Chicago home cooks and chefs, serve delicious meals through the Shmeal app. If you live in Chicago and would rather have me make this dish for you, it's cool. Download Shmeal from the App Store. And guess what? Your first meal is free! It's seriously a really cool thing. You should check it out. In the meantime, I'll teach you how to create this vegan deliciousness. Just keep reading.
Like I said, this recipe is simple, but the flavors are layered and vibrant. Have you ever cooked celery root? I hadn't until about five years ago. I didn't grow up with it either. I'm happy to have been introduced no matter how late in the game. It's flavor is unique and reminds me of a sweeter, milder fennel-y turnip. It's the potato and apple's perfect playmate.
Potatoes are vegan, you know? And they aren't our enemies. They get a bad rap with the low carb diet folks, but potatoes not only taste good. They are good for you and contain antioxidants. They're also cheap, versatile, and store well. I use the Yukon Gold variety simply because I like their creamy texture. You can use any potato you have around. There's no such thing as a bad potato as far as I'm concerned.
In this dish, apples do what apples do – add the sweetness. I use gala apples because I like the texture and they hold up to rooting with the other ingredients well. Apples still tend to cook through first, so use my trick to ensure they don't brown too much. Cut the parchment sheet that will hold the apples and celery root in half. Place the apples on one half and the celery root on the other. You can now remove the apples easily if they cook a little sooner.
And unlike the producers of Sex and the City, I know that this whole thing would be nothing without its fourth star. Just like the idea of SATC without Kim Cattrall is unfathomable, without the bold, herbal flavor of sage, this dish wouldn't deliver and be as great as is. I double down by using both the powder and then topping with one of the yummiest snacks ever, fried sage. After you try it, you'll find yourself just frying sage because it's Tuesday. Be careful to not eat them all as you fry, they're addictive.
Cook this and you'll know you can be satiated and wowed by a vegan dish. And maybe in my next post, I'll teach you how to make those salads more satisfying too. Please try it and let me know what you think. If you do, be sure to tag me @daphnedebauchee.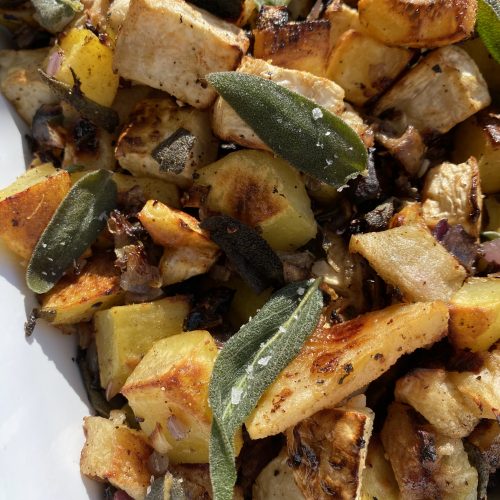 Roasted Celery Root, Yukon Potatoes, and Apple with Fried Sage
A big mistake a lot of new vegans make is to think that all they can eat is salad. Don't get me wrong. I love, Love, LOVE a good salad, but sometimes you need something warm and with a little more weight to it it. This recipe is perfect to fill that carb-y itch while still being completely vegan. It's easy and even a little bit fancy. What could be better?
Ingredients
2

lbs.

Yukon Gold Potatoes

2

ibs.

Celery Root

large

2

Gala Apples

large

1

bunch

Sage

fresh

5

cloves

Garlic

freshly minced

1/4

cup

Olive Oil

1

Leek, optional

thinly sliced

Salt

Pepper

1

tbsp

Sage

powder
Instructions
For roasted vegetables
Heat oven to 400 degrees.

Wash and peel celery root, potatoes, and apples.

Cut into large simarly sized chunks, 1" – 1.5", and set aside. Make the apple and celery root chunks the biggest, potatoes the smallest so the apple and celery root don't roast too quickly. (Place in a bowl of cold water to prevent oxidation.)

If using leeks, slice the white and light green parts into 1/2 inch pieces. (Optional)

Drain water from vegetables throughly and leave in the bowl.

Add olive oil, garlic, leeks, salt, pepper, sage powder, onion powder, and garlic powder to the celery root mixture and toss thoroughly.

Line two cookie sheets with parchment paper.

Place potatoes on cookie sheet and spread them out. They should not touch.

Place apple and celery root on the other cookie sheet and spread them out.

Add any leftover oil, garlic, or leek to either cookie sheet.

Place both cookie sheets in the preheated oven for 45 minutes, checking and tossing at the 20 minute mark.

Check the apple and celery root cookie sheet at the 30 minute mark for doneness. If roasted through to your liking, you can remove. If not, leave it in and continue to keep an eye on it. Remove at 45 minutes or when the potatoes are cooked through.

Place the roasted vegetables in a serving dish, sprinkle with additional salt and pepper to taste, and set aside.
For the fried sage
In a frying pan or skillet, heat 1/4 cup olive oil to medium.

Add 7 sage leaves and let fry for 2 – 5 seconds, any longer and they will burn.

Remove from the oil, place on a paper towel-lined plate, and quickly sprinkle with coarse salt (I use Maldon).

Repeat until the entire bunch is fried. You'll want to use every leaf so you have a few in every serving.

Place on top of roasted vegetables and serve hot. Enjoy!