Caesar salad dressing is the virtuoso of salad dressings. It's the perfect combination of creaminess and fishiness for me, and after adopting a vegan eating lifestyle, I missed it a lot. Oh and please understand, before I started eating vegan, I wasn't one of those weirdos asking for eggless Caesar or looking for the fishless recipes. I like food – the full on, authentic recipe with all its sulphuric, under the sea deliciousness.
Jump to Recipe
Well, as the saying goes, when you know better, you do better. I was no longer willing to let my learned tastes override my conscience or my health, but as the name of this blog should tell you, I am also not one to deny myself of too much of anything within reason. So I set off on my search for the best vegan Caesar dressing and I started off with store-boughts.
As you can imagine, the results were worse than pathetic. Store bought Caesar is trash vegan or not. I KNEW better than this too. Anyone with even half a taste bud knows that once you've had homemade salad dressing, you can never go back.
Once you've had homemade salad dressing, you can never go back.

Daphne Debauchee 😉
Soooo I immediately began researching and experimenting with making my own. There are so many different recipes for vegan Caesar dressing and many of them are much simpler with fewer ingredients, BUT they don't do it like this one. Yeah, I said it. This is the best vegan Caesar dressing recipe I've ever tasted and I've tasted quite a few.
As a matter of fact, be sure to follow me on Instagram and check out #veganreviewsbydaphne for vegan product reviews. I'm honest, but fair. 😉
This recipe captures the true essence of Caesar dressing. It's got that touch of "egg-iness" from the black salt. It's got that briny, salty taste of the sea from the caper brine and laver. It is indeed THE BEST VEGAN CAESAR DRESSING. Try it for yourself and then go ahead and tell me I'm right. LOL.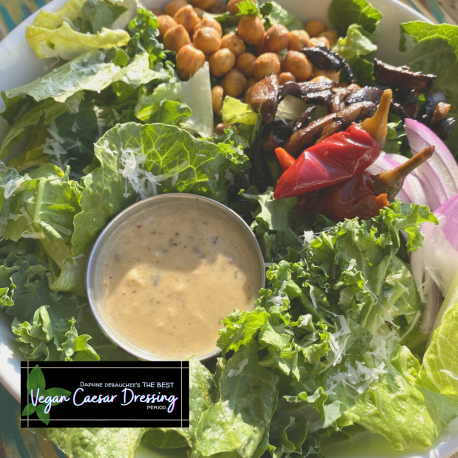 Daphne Debauchee's The Best Vegan Caesar Dressing
I missed Caesar dressing when I became vegan, so I was determined to make my own and with the delicious sea flavor that I love.
Ingredients
1

cup

Olive tapenade hummus

8

Garlic cloves

very finely minced

6

tbsp

Lemon juice

1

tsp

Lemon zest

2

tsp

Dijon mustard

1

tbsp

Capers

minced

2

tbsp

Caper brine

2

tbsp

Olive oil

4

sheets

Roasted laver

finely shredded

1 – 2

tsp

Maple syrup or agave

optional

1

pinch

Black salt

optional

Himalayan sea salt and coarsely ground black pepper

to taste
Instructions
Scrape the oilve tapenade off the hummus, chop finely, and add to a small mixing bowl.

Add hummus, zest, mustard, minced garlic, brine, capers, and laverto the mixing bowl with the chopped tapenade and whisk.

Add half of 3 tbsp of lemon juice and whisk. Add more to taste.

Add maple syrup or agave and whisk. Add more to taste.
Notes
Laver is the star of this recipe, but caper brine, lemon juice are the needed supporting cast. Add more brine and/or lemon juice to taste and if your dressing is too thick for you, add a little more of either for more oomph.  If the taste is perfect and you just need to thin without adding more flavor, use a little hot water to thin it out.
Another reason I love this dressing? It lasts up to a week in the fridge!